Dr. Ilana BSc DMD Dentist
Dr. Illana is a General Dentist at All Smiles Dental Centre in Winnipeg.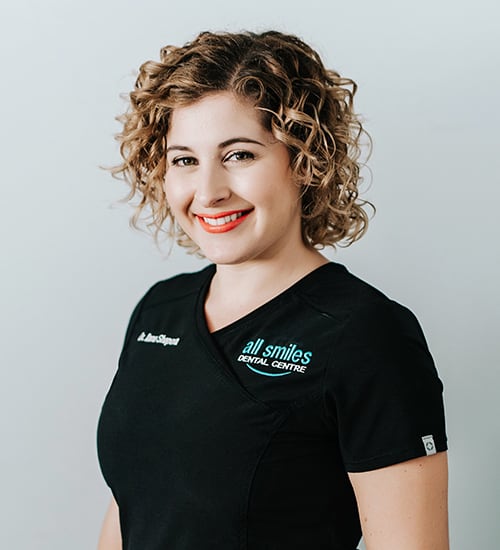 Dr. Ilana was born and raised in Winnipeg. With a grandfather, and two uncles in the Dental field you could say Dentistry was in her blood. Dr. Ilana received her Bachelor of Science degree in 2010 from the University of Manitoba. In 2014, she proceeded to obtain her DMD degree from the University of Manitoba.
After graduation Dr. Ilana was eager to start her career and use her skills for the benefit of her patients. Being a perfectionist, Dr. Ilana is already involving herself in continuing education and is growing her knowledge of implant dentistry, treatment planning, and children's Dentistry. Looking to the future, she is excited to be taking even more professional development courses and staying at the forefront of innovations in Dental techniques and technology.
Outside of work Dr. Ilana loves spending time with the love of her life, but it's not who you think. It is Prince Charles and Princess Penelope her royal canine companions. With her husband (and second in line to the throne), Dr. Igal and their "fur babies", Charles and Penelope, Dr. Ilana enjoys going for evening walks and spending time playing at the dog park.
Dr. Ilana likes the winter even less than Dr. Igal so don't expect to see much of her outside, unless it's with a snowboard strapped to her feet. Summer is truly Dr. Ilana's season, biking, hiking, or jogging you name it she doesn't do any of them. But she sure loves to suntan so if you out at the beach there's a good chance you might bump into her. Like her husband Dr. Ilana loves to go to the movies, but don't be too quick to discuss any movies with her as she tends to skip the movie and go straight for the popcorn, which is one of her favorite foods.
"Nowadays everything is so fast paced and rushed, Dentists like many other health care professionals are being pushed to do things faster and faster. I disagree with that type of thinking. I think that the time I spend with my patient is valuable to both my patients and me. I will always take the time to get to know my patients and to ensure that my patients are getting the best quality of care. For me its not about "fixing teeth" its about building relationships and helping people."