Dr. Igal BSc DMD Dentist
Dr. Igal is a General Dentist at All Smiles Dental Centre in Winnipeg.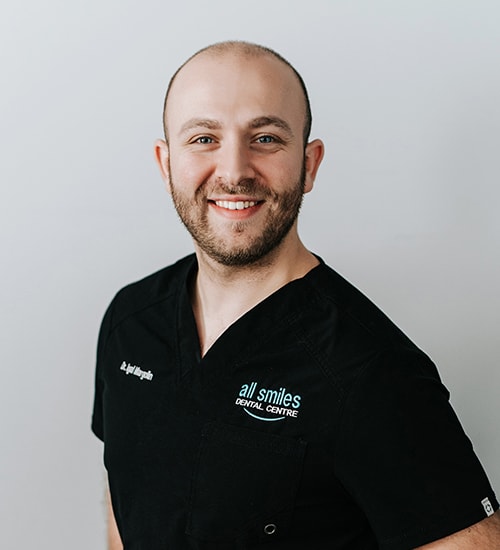 Dr. Igal Margolin moved to Canada from Israel in 2003 and in addition to English is fluent in Russian and Hebrew. After completing his undergraduate studies at the University of Winnipeg he proceeded to obtain his DMD degree from the University of Manitoba in 2010. Instead of going to work in a private practice however, Dr.Igal decided to spend an additional year at Winnipeg's Health Sciences Center Dental Residency program providing care to patients with compromised health, special needs, and dental phobias.

Now Dr. Igal uses the skills he learned to provide his patients with the best possible care and help patients who have unique needs and have difficulties receiving regular dental care. But it doesn't stop there; Dr. Igal is a strong believer in continuing education and professional development. Since graduation he has taken numerous continuing education courses covering a variety of topics including infection control, lasers in dentistry, implant dentistry, cosmetic dentistry, and many more.
Outside of work Dr. Igal loves spending time with his wife Dr. Ilana and their "fur babies" Prince Charles and Princess Penelope the cavalier spaniels. Although winter is not his favorite time of year he does enjoy snowboarding, attempting to skate, and cheering for the Winnipeg JETS. In summer you might not see him around town as much since he enjoys sunbathing and water sports at the lake. But the one thing Dr. Igal loves to do the most is go to the movies, so feel free to tell him about your favorite movies when you see him, he will certainly appreciate it.
"My Philosophy in providing care is very simple – treat patients like they are family. In my opinion every one of my patients deserves to be treated with kindness and respect and receive the best care possible in an environment that is stress free, accommodating, and enjoyable."