Dr. Wen Bsc DMD Dentist
Dr. Maggie Wen is a General Dentist at All Smiles Dental Centre in Winnipeg.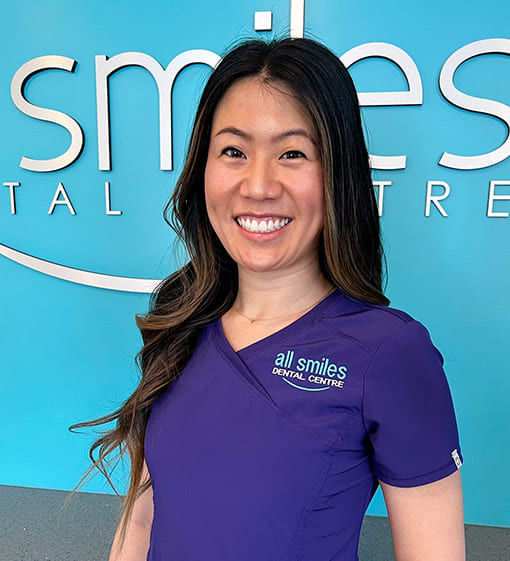 Dr Maggie Wen obtained her DMD degree from the University of Manitoba in 2017.  Upon graduation she moved to Montreal and completed a one-year residency program at McGill University. During her time at McGill University she received advanced training in endodontics, surgery, and management of emergencies/trauma. After completing her residency Dr. Maggie decided to explore the other side of the globe and moved to Sydney Australia to work at a private practice. Missing home and family, Dr Maggie returned to Winnipeg in 2019 where she began her private practice at All Smiles Dental Centre.
Dr. Maggie strives to improve the overall wellbeing of her patients through comprehensive oral care. She never thinks twice when the need arises to come early or stay late, always putting the needs of her patients first. She is exceptionally gifted at being able to provide gentle and kind care putting even the most anxious of patients at ease.
She is fluent in English, Mandarin, and Cantonese and in her spare time Dr. Maggie enjoys hiking, visiting friends, playing Ultimate Frisbee, and spending quality time with her pride and joy, pet bunny Miss Dobby.